Today we'll talk about how to choose an acoustic guitar in a right way, whether it is new, modern, expensive, of a famous brand or has already been used, but sometimes costing much cheaper.
What is the acoustic guitar for?
[adrotate group="1″]So the first and most important thing to consider while choosing an acoustic guitar, is what you want to perform with it. After all, they are used in many styles and directions of music of both classical and modern. This instrument is also the first friend for writing your own songs.
In addition, using guitar you can deal with your personal creativity, select the chords for your poetry and vice versa. Also it is used as a solo instrument. The range is very wide, and it is impossible to embrace it in one article.
Choice and tuning of acoustic guitar
While choosing the instrument in shop or from someone's hands, necessary to know that very few guitars are sold completely tuned and ready for usage. Moreover, they are often sold with not completely dried out tree, so it will behave inadequately, detune and sound bad.
Perhaps one of the ten guitars will be tuned properly. It is meant that tuning the neck relative to strings, nuts, fret, actually the neck itself. But there is no need to be afraid, you just need to search for instrument that will be well-suitable for you and attentively read the article to the end.
What should you pay attention to while choosing an acoustic guitar
. You must pay attention to the gap between the stamp and the strings. It should not exceed 0.1-0.2 in.
Grief can be curved, so raise purchased by an acoustic guitar strings and bring it up to eye level, so you can visually check whether the flat neck, but sometimes you can not in this way identify all deficiencies neck, but at least in general terms, so you can check. [adrotate group="2″]
Frets (iron nuts which are located along the strings) can be fixed badly or one fret is higher than the other. As a result strings will unpleasantly rattle while playing.
It should be made of wood instead of plywood. If the guitar is very light and the neck outweighs soundboard (guitar body)itself, it is better not to buy such an instrument.
When buying an instrument, it is necessary to buy a case to it. Semi-hard is better, because soft one will not save your guitar from external influences and especially winter cold, which can also affect the instrument.
Finally, the most important thing. The most correct and wise decision would be if you give your new guitar into hands of the luthier. He will bring it to a professional level, and you will be able to enjoy your play having pleasure. So do I.
Luthier's adaptation and tweaking of the guitar
Otherwise, if you don't bring an acoustic guitar to a perfect condition, it will not sound as it should, or it will be difficult for a beginner to play on it and a lot of things can go wrong. Therefore, you will quickly lose all interest in playing and guitar lessons.
All professional guitarists have their own guitar master. Hence their instruments sound so good and we enjoy their performance. There are such masters in every town.
[adrotate group="3″]You can ask at a music store or look in the Internet by typing "luthier" in your city. Yes, you should pay for that a little of extra money, but you will not regret later.
As for pricing, I advise you not to buy a guitar priced below $ 100. The more expensive an instrument is, the greater the chance of quality, but it is also not a fact, everything is naturally relative and depends on the "honesty" of a person you are buying it from.
But in any case, while choosing you should check everything with your own hands, feel it, the strings, the sound, the neck. Better yet, invite to the purchase someone who has played for a long time and has experience.
Types of acoustic guitars
To be on the safe side, for you to decide in advance, I will tell you more about the most common types of acoustic guitars.
Classical acoustic guitar
"Classic one" (classic acoustic) can be used for beginners from scratch and musicians playing classics, Latino, flamenco, jazz. It is played on just with the fingers of two hands,what is more, musicians often let the nails grow a bit on the right hand for good sound extraction.
For those who can't play at all, "classic", this is the instrument which you can start your training with. The nylon strings, that are often used, are soft, therefore they allow to start learning painlessly and not to injure your fingers.
In order to facilitate the tuning you can buy as well a cheap electronic tuner for this. Because at the beginning you will not be able to tune it aurally in a proper way, and today professionals use them very often, so it saves time. [adrotate group="4″]
Pop acoustic guitar
The guitar with steel strings, so-called "pop" acoustic guitar. Its sound is louder and more sonorous. A tip, for such pop acoustic guitar strings thickness should be number 11.
Sets of strings are of different thickness, there are 9,10,11,12 … So for a good sound are better suited thick ones, at number 11. These guitars are played with the guitar pick, here you can choose whichever is good for you. They play rock, jazz, alternative, pop and everything else as it is the most common type, and it is used everywhere and in all styles.
Semi-acoustic guitar
Semi-acoustic is the same guitar with steel or nylon string (a classical one). But it also has a built-in equalizer on the battery, for connecting to an amplifier.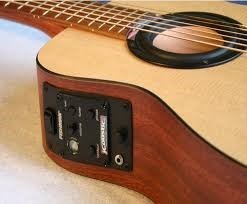 There is a tuner for tuning the strings too. It costs a little higher than usual acoustic guitar. Besides, the equalizer may have the frequency controller. With semi-acoustic guitar you can perform at concerts with the group, in general where you want to voice a large area or enhance the sound.
The processor isn't an insignificant thing for it, but it is necessary only for the semi-acoustic guitars. It creates a lot of digital effects that will embellish your play, give the volume, echo, delay effect and many other interesting sound processing. All that you hear on the records of your favorite guitarists is handled with digital devices like this.
Top Manufacturers
[adrotate group="5″]When purchasing an instrument, it is important to know the list of good firms that specialize in the production of acoustic guitars. The best ones are of the American producers, Japanese are good as well. But mainly in our stores there are Chinese, Indonesian, Indian ones. Here are some of the brands of manufacturers of guitars which you may pay attention to.
Expensive guitars: Gibson. Ovation. Ibanez.
Middle budget: Yamaha. Washburn.  Lag.
Cheap firms: Court.
The experience and tips on choosing
Here I have tried to explain the basic principles and tips on the selection of an acoustic guitar. I want to note by experience that it's not that easy to choose it, it's not like to go to the store and buy a TV (for example).
Personally, I was looking closely for _ my instrument, half a year I and was wondering in what kind I need. And finally, I purchased it in another city and from hands. After purchasing the instrument I was a little disappointed it was not very comfortable to play. But the problem was solved by the luthier, I have paid a certain sum, and everything fell into place, and now I am glad. It sounds and it is much easier to play on it now.
But the main thing in all of this is not even a guitar, but your diligence and systematic learning,  you can make it perfect, but if you do not know how to play, or play badly, then nothing will help.
It's necessary during first time to take a guitar teacher, and at least once a week to practice with him. By experience, self-study lasts very long and many things can be done wrong. Well, at least use our tips and lessons of the acoustic guitar, which we will gradually add and improve.
And do not despair if at first time not everything goes well, even the great guitarists at their time practiced 8 hours a day and as a result became known. The more time and efforts you put into the instrument, the greater it will return.
I advise the beginner guitarists to practice two hours a day, half an hour on every single exercise and then you receive the desired result. Buy an acoustic guitar. Practice a lot and you will succeed. Read carefully and use these tips, they have been tested by time and experience. And wait for our new training lessons on how to learn to play the guitar at home.