I doubt that there is a person who doesn't like pigs in blankets. Many housewives ignore this dish considering it takes too much time to cook it while we can eat it too fast. Here is a simple recipe for quick cooking of pigs in blankets in the oven.
Ingredients needed to cook pigs in blankets: 
[adrotate group="1″]To cook pigs in blankets the following ingredients are needed:
Frankfurters 14 pieces
Flour 1 kg
Milk 500 g
Margarine 100 g
Sugar 4 table-spoons
A inch of salt
Yeast (dry) 2 able-spoons
Egg 2 pieces
Preparation of ingredients
For dough to be elastic, flour is to be sieved and heated to room temperature.
Warm up milk approximately to body temperature 34-35 ºС. This will create favourable environment for yeast activation.
Soften margarine but don't melt it, this is, take it out of the fridge beforehand and put in a warm place for it to become soft and pliant.
Separate egg whites from yolks. Eggs whites are needed to knead the dough, while yolks are needed to be spread on the dough prior to baking.
Nowadays, it is rather difficult to buy eatable frankfurters for a big family. But we want to eat something tasty. I offer a simply and cheap recipe of cooking pigs in blankets. Usually I buy around 12-14 frankfurters and cut them lengthwise in half, which increases their number twice. [adrotate group="2″]

Leavened dough preparation
Dissolve half of sugar in warmed up milk. Add 2 table-spoons of dry yeast. Leave the leavened dough for 10-15 minutes. Since dry yeast activates too fast, this period will be enough for the process of fermentation to start.
When the yeast is activated enough, this will be noticeable because of appearing friable foam on the milk.
Kneading the dough
Add the remaining sugar and a pinch of salt to the leavened dough, mix it. Add margarine and whipped whites to the dough. Pour the mixture into the hole in flour formed by hand.
Knead the dough on the table until a uniform consistence.
It should be rather elastic. Divide the dough into equal-size balls (by the number of frankfurters). In my case, from 14 whole frankfurters I get 28 halves.[adrotate group="4″]
Forming frankfurters in the dough
For our frankfurters in the dough to be nice, make a kind of a sausage from dough.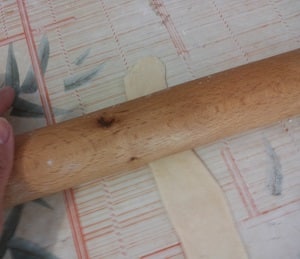 Then roll it lengthwise with a rolling pin for it to become flat. Having wrapped up the tip of the frankfurter with the dough, wrap it up completely with an overlap. Now we have a kind of pupae made of dough – future frankfurters in yeast sough.
Baking pigs in blankets
[adrotate group="3″]Smear the baking tray with vegetable oil. Place frankfurters in dough onto the tray. Leave for 15-20 minutes for the dough to get baked a little.
To make a nice brownish crust, smear it with whipped yolks from the top. Preheat the oven to 180 ºС; place the tray with frankfurters in it. Bake on average heat for around 25 minutes. When the batch gets covered with rosy crust, the dish is ready.
There is a little secret for the batch to have crust but not be dry. Take a piece of clean fabric or gauze; it should the size of the baking tray. Soak it and wring out. As soon as the tray with the batch is removed from the oven, it should be covered with wet fabric for 3-5 minutes. Remove the batch from the tray afterwards.
That's it. As you can see on the photo, the recipe of pigs in blankets is rather simple, quick, and cheap. A bunch of rosy, odorous pigs in blankets on the table won't leave members of your family and guests indifferent. In this recipe, the dough is rather rich, that is why the batch will remain soft for several days. Although, this tasty treat won't stay for too long and will be eaten too fast.
Now you know how cook pigs in blankets quickly by my recipe. There are a lot more interesting recipes on our Portal! I want to share a couple of them with you: how to cook stuffed fish in the oven, or how to pickle a tasty barbeque. Maybe you'll be interested to know unusual recipes of lean dishes and many others.