Rhodes Island is one of the most picturesque Greek islands. Colorful and sunny Rhodes is called the real Mediterranean Pearl by rights.
Rhodes can surprise even the most experienced traveler with its nice prices, interesting resorts and attractions.
Mandraki port
Geographical Location,
h
ow to Get to Rhodes, Climate
[adrotate group="1″]Rhodes is considered the fourth largest island of the Greek archipelago. Its area is 540 miles². In the West the island is washed by rough water Aegean Sea and in the East – by Mediterranean. The coast has pebble beach on the West side and sand beach on the East with open bays and capes.
The climate of the island is typical mediterranean and humid. In summer months the temperature reaches 95-99 degrees, and in winter rarely falls below 50-55. Tourist season starts quite early – in April, but the main inflow of tourists begins in mid-June – early July. It lasts till the end of September – beginning of October.
It is possible to get to Rhodes from other Greek islands or the mainland on the "rocket" or you can also use cruise ship or ferry from Turkey, Macedonia
Rhodes City
Rhodes City – the capital of the Greek island of the same name it was founded in 408 B.C. It's situated in the Northern part of the island and is washed by two seas at the same time: by Aegean sea on the West and by Mediterranean on the East. The proximity of the airport of the island to Rhodes city miles allows to get to the city quite fast (about 9 miles).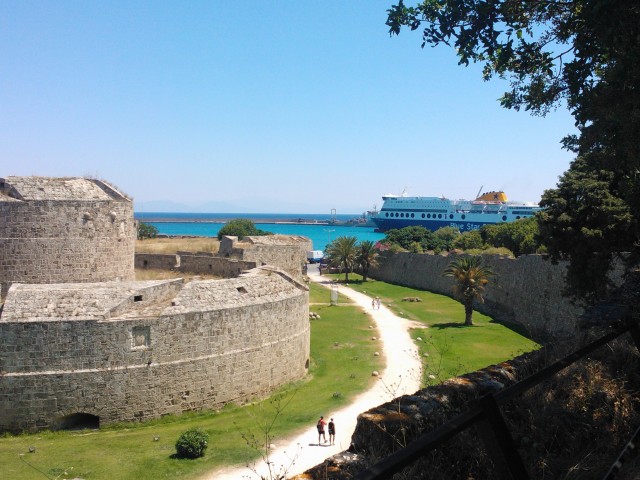 [adrotate group="2″]The main attractions of Rhodes are ruins of ancient temple of Pallas Athena (2century B.C.), small theater, ancient stadium (local athletes meet here up to now), three recovered columns of Apollo Temple, the great temple of the Evangelists in the old port, and, of course, famous fortification – the medieval Old town.
This citadel was built by the Knights Hospitallers, who mastered the island in 1309. Fortress, surrounded by two rows of thick stone walls, was attacked repeatedly by Turkish and Roman empires, but withstood all the sieges. Collided cannonballs can be still seen in strong and high walls of the Rhodes fortress.
The Old city was a residency of 19 Grand Masters of Hospitaller order. Chevalier Hospital (archaeological museum of Rhodes is situated there now) and chevalier library with ancient manuscripts, a clock on the medieval tower are the evidence of their presence on the island. Rhodes is also a port city. The most picturesque port is considered to be the port of Mandraki.
Considering a legend, bronze Colossus of Rhodes – one of the Seven Wonders of the World, overlooked on two supporting pillars at this place. That was a bronze giant lighthouse in the form of a young man with quiver of arrows behind his back, that held a fire skyphos high above his head. According to the legend Colossus was 18 meters in height and was demolished by earthquake in the 3d century B.C. After destroying of the statue there were two bronze sculptures of deer erected on its place. Red deer – symbol of Rhodes – is under state protection. Rhodes deer are even transferred to many zoos around the world.
Where to Go on a Tour Around Rhodes
[adrotate group="3″]Recreations of every taste are offered for tourists in Rhodes. Hotels of every category are presented at the coasts of both seas. Excursions around Rhodes resorts are offered both on the island and neighborhood islands (Kos, Symi). There are also ferries and line boats that go from islands capital to mainland Greece and Turkey.
There are city shuttle buses as well as buses that go to the nearby resort towns on the coast of Rhodes (Ialyssos, Faliraki, Lindos), it is easy to get a taxi also. One of the most comfortable and easy ways of transportation is to rent a car or a bike.
Rhodes beaches are clean and free, most of them are fitted with payed chaise-longs (not reserved to hotels), showers and umbrellas. Oceanarium is located in the most northern point of the island and city Rhodes. You can watch the confluence of two seas on a cape.
When the night comes, life in Rhodes doesn't stop. There are entire sections of bars and nightclubs coming to life at nighttime in a New town. At the same time, taverns and souvenir shops keep working in the Old town. There is an elite casino near the North Cape.
The city is beautiful, comfortable and warm, citizens are very cheerful and welcoming (most of them speak English), streets are very neat. There are flowers and shrubs near every house in the uptown.
There are a lot of wonderful place on Rhodes, so it shouldn't be a problem to find an interesting tour for you.
Snow-White Lindos and Ancient Acropolis
Lindos city is situated at Southeastern part of the island. It's not just a biggest resort center on the Rhodes coast, but also the most beautiful. The city is included into UNESCO list and has global significance.
[adrotate group="5″]Lindos is the most popular city of the island according to the large amount of tours to this place. It's possible to get to Lindos from any other city of the island with touristic group, shuttlebus or rented car (it's about 30 miles from the capital city of Rhodes). The tour price from Rhodes city is about $40-52 (€35-45) per person. For the cars there is a free parking close to the beach at the foot of the hill.
There is the main attraction of Lindos – famous Acropolis of Athena of Lindos and the Temple of goddess Athena on the top of the hill. This Acropolis is famous, first of all, because it was constructed in 6th century B.C. So it is more ancient then similar Acropolis, located in the capital of Greece – Athens.
You can get to the top to Acropolis by feet (it's about half an hour) or by donkeys. But think twice before getting a donkey – they are quite slow, shaky, and the odor is not that good, you can imagine. The other think is that walking by feet is much better for your health.
Visiting Acropolis
Entrance to the Acropolis is paid – about $7 / €6 (information of 2014 year). There are frescoes, antique artifacts, empty pedestals, hieroglyphic symbols and classical antique profiles, carved in the rocks and walls, in the fortress. Half preserved half restored columns, pedestals and stairs overlook from the very top.
The walls of Acropolis are steep; they stay about 100 feet above the sea. There are a few sand lagoons with sky-blue water around Lindos. The most beautiful is located at the heart shaped bay. Here tourists are invited to combine relaxation with water entertainment (such as water skiing, scooters etc.)
Also overlook from Acropolis opens a wonderful view to the snow-white city, famous for its ceramics and textile – the best at Rhodes Island. Residential areas are in close proximity to taverns, souvenir shops and bars. Roads are paved with small black and white pebbles and shells. They are very narrow, so there is no traffic.
Where to Relax at Rhodes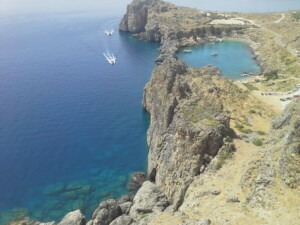 There are other beautiful places at Rhodes, such as Ialyssos city and Filerimos Mountain. The most attractive are the monastery, the church of Blessed Mary and 55-feet concrete cross with sightseeing platform, erected by knightly order in 15th century, situated in the top of Filerimos Mountain in Ialyssos city.
The church is functional. It runs wedding ceremonies and christenings. It is indicative that the part of the church used to be Orthodox and the part – Catholic. On the mountain there are a lot of peacocks walking around. They always talk with each other, so it's never silent on the mountain.
[adrotate group="4″]It is possible to get to the huge cross, which is visible from far away, through the alley, which is called Way of the Cross. It has the same distance as the distance that Jesus passed to the Calvary.
The place, where the giant cross and the concrete statue are located, has a sightseeing platform. There is a wonderful view to the East and West coasts and the North Cape, where the capital of the island Rhodes is located, from here.
At the foot of Filerimos Mountain are a souvenir shop and a tavern, where you can be offered a chivalrous liqueur, made of variety of herbs. Its recipe is carefully kept in secret.
Resorts and Attractions of Rhodes
There are plenty of resorts, where you can relax at Rhodes such as Kallithea and Faliraki. Kallithea is a former fisherman village, now it is a resort with clean beaches, comfortable taverns and SPA-centers. Kallithea is also famous for its scuba-diving center, where the tourists are offered to try diving. According to reviews, it's the most expensive resort and east coast.
Faliraki is considered a youth resort because of a large amount of bars, restaurants and night clubs at the beach. Along the sandy coast there are several economy class hotels, comfortable hotels and apartments, located on the inland hills.
There is an aquapark in Filaraki. Parties and fests are held here every night; beaches are always full of young people resting. That's why people with children are rare in the city.
[adrotate group="6″]But the most renowned thing at this place are seven springs with crystal pure water, flowing in a green reserved area. According to a legend, if a person drinks water from every spring and goes through 590-feet long tunnel, he would get free from the 7 Deadly Sins, and get younger for 7 years.
Butterflies Valley
Petaloudes is the valley of butterflies. It's a unique and very interesting touristic place. It's situated in about 15.5 miles from Rhodes city, in a shady, humid and chilly valley. In a summer season thousands of butterflies of only one species – Tiger Moth come here (they are listed as endangered).
Thousands of butterflies stick all over the trees, rocks and trails in the valley during their mating season. That gives an impression of colorful carpet.
In the Petaloudes Park there are wooden walkways, bridges and special viewing platforms. It's strictly forbidden to make noise, shout, even to sneeze in the valley! This may frighten away the butterflies. Although soaring butterflies show all the beauty of the lower wings, but they spend a lot of energy for that and can die before laying eggs. That's why disturbers are punished with fines.
Prasonisi Cape
Prasonisi means a kiss of two seas. Prasonisi cape is very popular place for tourists and lovers of extreme water sports. In summer time it has a look of bay-bar, which divides two absolutely various by the nature seas – Aegean and Mediterranean.
From the side of Mediterranean it's possible to swim in calm warm water. And the side of Aegean Sea, due to big waves and strong wind, is settled on by lovers of windsurfing and kitesurfing. There is even a school, where experienced instructors would help you to learn to get up on the board and ride the waves, close to the cape.
[adrotate group="7″]In winter the bay-bar disappears and two seas merge together, so that the peninsula becomes an island with lighthouse
Rhodes has a lot more attractions. One of them is the Church of St. Tsambika, where the miraculous icon of Blessed Virgin helps barren women. There is also a wonderful sky-blue beach. Monolithos castle is also worth to see, as well as ancient ruins of Rhodes Pompeii – antique city Kameiros.
Transport, Hotels and Beaches of Rhodes
There are a few ways of transportation on Greek islands and on Rhodes in particular. For example you can use touristic or shuttle bus or rent a car, motorbike or scooter or bicycle (there are plenty of car rentals everywhere). The price for a car is about $35-50 / €30-40 per day. Taxi is one of the most comfortable means of transportation at Rhodes.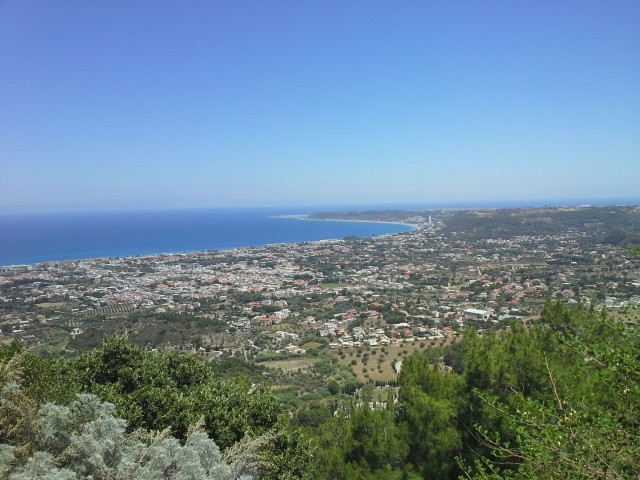 There are different classes of hotels on the island. 2-star and 3-star hotels have quite good service. 3-star hotels have very democratic prices.
During hot season the hotels are full, so a lot of tourists try to find apartments in residential sector. That is very popular at West coast, due to fewer amounts of hotels, which are mostly 5-star hotels.
East coast has more democratic hotels. Usually tourists are offered a calm family resort by Mediterranean Sea. You can find English speaking guides everywhere; all the hotel staff also speaks English.
Beaches at Rhodes are really bountiful. You can find beaches crowded during the whole days and nights, and you can find really secluded places for relaxing. East coast of Rhodes is popular for its beaches with fine sand, clean bright sea, dozens of bays with high cliffs, aquapark in Faliraki, beaches of Kallithea, Katara, Anthony Quinn beach.
Beaches are fitted with everything necessary for comfortable relaxation – taverns, chaise-longs, umbrellas. It's always crowded here; a lot of families with children come here. West coast of Rhodes is popular among lovers of extreme water sports. Most of the beaches are pebbly or rocky with a lot of waves
Cuisine
, Shopping, Entertainment, Sports and Leisure at Rhodes
[adrotate group="9″]Rhodes always can surprise travelers, even the most experienced. Lover of extreme can try water skiing or surfing, sailing or diving (gun spearfishing is allowed only for full-aged). Active youth, who love nightlife, would like Faliraki.
Those who love to relax are offered excursions around historical and legendary places, as well as learn about culture of Rhodes Island and the whole Greece. You can visit museums of honey and beekeeping, wineries, ceramic workshops. All shops offer their products to buy.
You can even find shop tours around Rhodes. Most of them offer fur products.
Greek cuisine is presented by variety of vegetables, olive oil, feta cheese, vine and seafood. There are plenty of snack bars, coffee shops, cafes, restaurants and taverns.
A highlight of a trip to Rhodes is guided tour with a dinner in a restaurant on a hill with entertainment program – a lesson of Sirtaki dance
Going home, make sure to get a souvenir – ceramics, leather or fur. Rhodes is famous for its nice prices, jewelry, natural sponges, wine and carpets. Do not forget to bring home a piece of Rhodes – a statue or a handmade magnet. You would reminisce unforgettable moments of summer, sun and blissful holiday, looking at them.