[adrotate group="1″]You can look for housing at Phuket Island in a variety of ways:
You can take care of it while you are still at home and book suitable housing via internet, using web-site of a lessor or services of an agency. But keep in mindthat the photographsdo not alwaysmatch the reality;
You can also use the services of the agencies on arrival to the island. In this case, you have the opportunity to check immediately the options offered by agencies;
These two above mentioned methods can simplify the task of searching an accommodation. But keep in mind that even the largest agencies don't have all the possible options. So you should better forward your requests to a few different agencies. Also it's hard to find housing at guesthouses, where the rental cost is much lower, than at villas or condominiums, but the facilities are worse consequently.
[adrotate group="2″]There is another option. If you've chosen the district where you would like to stay, you could easily find accommodation yourself. You'd need time, patience, transport (if the radius of the district, you would like to live in, is not that big, you can do it without transport) and knowledge of English or Thai languages.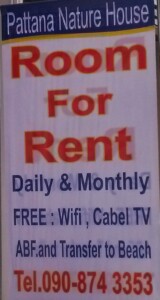 When you have everything above mentioned, you can go for searching. You can come into any accommodation you like. If rooms, apartments, villas are for rent there are signs. And there should be a reception for sure.
In our case the area was easy to decide. We have friends living in Patong for their work, so we decided to find housing at their neighborhood.
The first criterion in choosing housing was availability of pool and, of course, a will to save money (saying true, these two requests are absolutely incompatible).
But at that moment we didn't know that, so we decided, that if we'd find any accommodation rather far of the sea the price should be cheaper. So we rented a bike and went to the fourth line from the sea shore – Nanai road.
[adrotate group="3″]We get into every condominiums, villas and houses to check the prices and offered options. At the end I liked an apartment with small kitchen, bathroom and big bedroom with a view to a swimming pool (the pool shared by all the tenants). The cost was 30000 Baht ($850 or €750) per month plus electricity.
The cheapest housing was a small room at condominium Nanai 9 Residence. The price was 25000 Baht ($700 or €650) + electricity, but after a long communication with the landlord, he agreed to reduce a bit rental cost to 21000 ($600 or €540) plus electricity.
We decided to search further and check guesthouses, on my friend advice. At last we found a guesthouse Star Touch not far from Nanai road for 8000 Baht ($230 or €200) plus 200Baht per month for a person for water plus 8 Baht per 1 kW electricity, and of course without any swimming pool.
We thought thoroughly and decided that there is no sense to pay more just for a pool. So we rented the cheaper housing. At least we got small room about 50 feet² with a big bed, fridge, table, chair, wardrobe, bedside tables, conditioner and kettle; bathroom with shower; small balcony.
We also got linens and towels. Housekeeper of the guesthouse proposed her services for 300 Baht. The lady was very funny, always smiling and telling different stories in Thai.
[adrotate group="6″]I hope that this article is useful for you, informative and interesting. I will be glad to read your comments and answer all your questions. If you decide to rent housing in Thailand yourself, don't forget that Thai people are very cheerful and friendly, they always make advances for you in person.