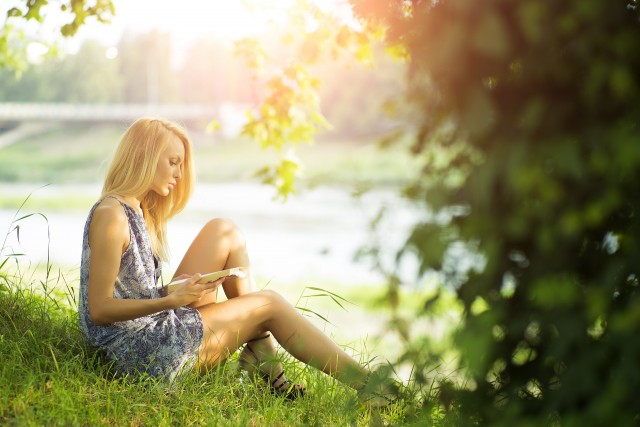 Today we will talk about how the woman can find internal and external beauty and what to do for it. Look at yourself in the mirror. Are you satisfied with yourself? Do you like your reflection? Are you ok with your life? Be honest with yourself. These questions are not so related to appearance as your attitude. Have you imagined yourself like this? Do you feel comfortable at your place? Ponder.
If you have a feeling that something goes wrong, that the forces are not enough to live on, that you do not feel yourself beautiful, harmonious and happy woman, it's time to change your life. It is time to act but not think about it. And if you are willing to change and work on yourself, then it won't be difficult for you to awaken and save woman's beauty.
And as soon as changes take place inside you, the world will respond with new, beautiful and colorful events, people and feelings. The finest thing you can create is yourself. No matter how old you are, what is your physique, health status or profession, it is always possible to make yourself beautiful, you just need to start.
A woman creates her by herself
Changes in the external and furthermore, the internal feminine beauty begin with the realization that you do not want to live like that anymore. It may take some time to understand what exactly you want: for somebody it will take hours, others need a few months – it depends on a person.
Start listening to yourself, your energy source, because, as you know, all the answers are in us. First of all, to hear what really a female soul wants, it is needed periodically to be in seclusion. Do not be afraid of loneliness, love it, allow you to be alone, in the end, focus on yourself.
And there is no speech about narcissism; we are talking about the deeper things – about the attitude. Feminine beauty – is a powerful and beautiful energy that is generated from peace, softness, lightness and harmoniousness. Just alone with herself, rejecting all the alien, woman can understand her feelings.
Therefore, at the first stage of change, try to find the time and opportunity to be alone – a walk in the park for several hours or go out of town. In moments of solitude, answer honestly to yourself in what way you want to live, let the will to dreams. There is one simple rule – if you want to live differently, not like before, to find your true, right and natural inner and outer beauty of women – be such as you have not been before.
Fill yourself with beauty from the outside
The inner beauty of women always begins with a thought: what you are filled with, you radiate, and accordingly, you attract. If the natural inner beauty in you has faded, you it can only be awaken with the external beauty. So start filling yourself with beautiful from the outside – learn to see the beauty.
Art helps a lot in this. Art is one of the most powerful sources of beauty, so diversify your life with exhibitions, theaters, museums, art galleries, concerts of instrumental music and so on.
Dilute your playlist with modern or classical music, learn to hear the beauty. Diversify your reading with masterpieces of world and national literature, and not only with prose but also poetry. Let it be your constant source of inspiration, beauty, and a part of your life.
Remember that every day you fill yourself, so have a responsible approach to what you do, read and watch. Become filled with the tenderness of kind romantic movies, they will awaken sentimentality and sensitivity in you. Surround yourself with good, beautiful and pleasant things, and little by little you fill with the energy from which your female beauty will wake up.
That moment when you finally attain the inner feminine beauty and restore the natural power you will feel immediately – you will not want to fuss, you will begin to enjoy the moment and to choose something that brings you real pleasure. You will want the beauty to be around you not only in galleries, but also in your space – cars, apartments in the workplace.
That is why, the next step to wake up beauty would be releasing place in your space for it.
For new energy – new sources
Beauty – this is discipline and order too, so do general cleaning in your space! Throw away things that you do not wear that have lost their luster, take them to social centers or churches. Do not hoard trash. If things do not bring you joy and pleasure – get rid of them.
It concerns absolutely everything in your home: books, jewelry, decorations, photos and else. Make your space cozy, clean, comfortable and beautiful for yourself. Into place of old, unnecessary things will come new, but only when they will have place to.
External beauty starts from the inside
Even the outer beauty of women starts in the first place from the inside, and, hence you need to start to think beautifully. No, it is not about complicated metaphors, but about thinking itself.
Discipline yourself even in thoughts – stop thinking negatively about yourself, about others and about the world. Stop condemning and discussing others – it has never adorned anyone. Your thoughts turn into words, and women's speech – it is an important component of the power of beauty. Work with your vocabulary, begin to speak beautiful words, compliments, praise to the people around you – fair words please the conversation.
Change the traditional "fun" and "cool" more pleasant "amazing", "delightful", "beautiful", etc. Oh, forget completely about curses. Even in thoughts restrain yourself. You will notice that your voice becomes softer. Beautiful words always sound more melodious, mellifluous; their pronunciation does the speech more graceful.
It is all the pleasure to talk to such a woman. These initial changes are necessary to go through and accept for the inner beauty to appear. In addition to internal changes it is necessary to work with the beauty and the outer shell.
You have to love your body
Both inner and outer beauty of a woman cannot exist without the love of self, love to your body. Take care of yourself; it is necessary first of all for you and only you. Rearrange discipline of nutrition – the state of your body, hair, nails and skin depends on it.
Eat properly, gather your will in a fist, and understand that your body is not a dump, do not throw into it all in a row. Exercise – the body needs discharging. Do exercises in the morning, ride a bike, go to yoga, dancing, tennis, fitness room – the main thing that it should bring you pleasure and joy.
Even walking 1.5-2 hours per day are producing results. And it is not only for a beautiful figure, but also for the health and youthfulness of the body. As for the youth, the self-care is another important detail in the image of a beautiful woman.
Take the time and effort for yourselves; help the skin, hair with various spa treatments. Groomed women are beautiful even without bright makeup. Learn how to take care of yourself, because no one will do it instead of you. Herein lies the love of self – to do what is for the good of the body and soul.
The real beauty is in harmony
Reaching certain results in the sport, taking care of your body, you have a reason to be proud – it is a strong source of energy of internal feminine beauty, inspiration and love. When you are beautiful, you want to make beautiful everything around you, including the relationship with people and external objects. And like attracts like, so soon you will notice that you are surrounded by more beautiful, harmonious and happier atmosphere.
And of course do not forget that to attain inner and outer female beauty to the full, not enough to do something one of these recommendations, because as the sages say, a sound mind in a sound body, or rather, without the right thoughts, you are unlikely to become a beloved and beautiful externally, and without outer beauty you are unlikely to be able to keep for a long time the beauty inside you.
So the portal of self-development the portal wishes you to develop harmoniously in both directions, while one will even support another. And your female beauty will not fade even in the difficult current conditions. And do not forget to visit our portal frequently and read the secrets of harmony, women's happiness, wisdom, and no less useful articles about healthy nutrition and vitamins needed for women and about how to behave and think, to become self-confident girl.